Stephen Miller Siegel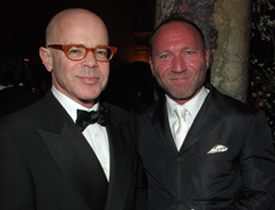 SMSA has designed and executed numerous Residential projects for a prominent private clientele that include Barry Diller, Stephen Schwarzman, Libby and Donald Fagen and Mr. Paul Cejas, the former U.S. Ambassador to Belgium. Currently they count among their clients several Wall Street entrepreneurs with large homes located from Westchester County and Southampton, NY to spacious apartments and townhouses in Manhattan. Stephen Miller Siegel drew rave reviews for his media room at the 35th Annual Kips Bay Decorator Show House.

In addition, many notable Commercial projects have been executed by SMSA. They include the design of offices for the Blackstone Group in New York and London, offices for Perella Weinberg Partners in New York City and London, the redesign of the Bergdorf Goodman Men's Store and the Escada Flagship Store on Fifth Avenue in New York City. The firm's retail environments are particularly noteworthy because they often resemble extraordinarily stylish urban homes. In fact, Women's Wear Daily once noted that the interior of one store "easily resembled the swish Park Avenue Apartment of a rather famous couple."

Stephen Miller Siegel, a registered architect in the state of New York, brings his uncompromising technical expertise to the firm's qualifications. Siegel began his career under the tutelage of noted architect Peter Marino, for whom he worked for eleven years. Mr. Siegel quickly rose to the most senior level at the firm. While there, he was responsible for numerous high profile commercial and residential assignments. In addition, Mr. Siegel spent three years working for the prominent architect I.M. Pei.

Stephen Miller Siegel has created a firm that offers the highest level of service in a demanding industry. The firm's distinct brand of quality in Architectural Design and its extraordinary sense of comfort and luxury in Interior Design transcend style.