Making the Most of Your Show House Tour
A show house tour is much like a museum visit. The many types of expression can be overwhelming. Many of the show houses are so chock-full of ideas that the experience can be a design overload.
With a little preparation you can better appreciate and enjoy your visit.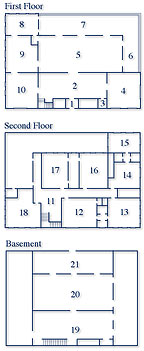 Remember, you are not allowed to take pictures in these houses, so managing what you see and knowing what to look for can be critical. You can really get divine inspiration and a real flavor of what can be possible for your own interior design. Reap all you can and use your ability to really look at design and process how it is possible. By evaluating others' work - especially great work - you can better transcend your ideas of design to reach new creative heights.
Managing your objective can maximize your experience.
So first things first. Look at our calendar to find where and when show houses are open. Plan your schedule ahead of time.
Check our site for information about the participating designers, the house itself, floor plans, and other useful information. The best way to take in all of what these show houses have to offer is to visit more than once. On your first tour through the house you can just move from space to space and look at what appeals to you. Meandering about is not so overwhelming and really inspirational. I always walk through and experience a rush of "how did they do that"! Going with that little bit of wanderlust really motivates me to think of all the interior design projects I want to tackle.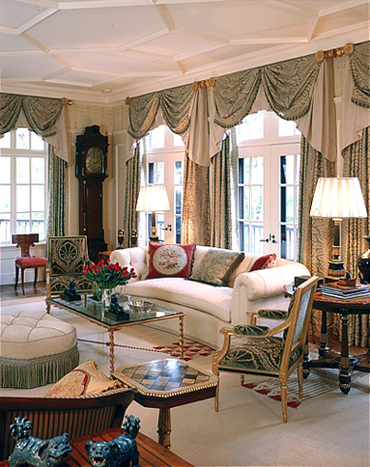 It is worthwhile to anticipate your visit, if possible, with a plan to better "see" the design. Each time you visit these show houses, the details, features, color schemes, spatial planning, dimension, and materials come into clearer focus. And, just as we have focused on the designs of different cities, the same techniques can be used in the show house.

Focus on the elements of design - Shape, Material, Structure, Color, Texture, and Size. These elements give order to the designs you see and help you get an appreciation of the design techniques. Also, you can see how the talented designers incorporate all of the elements to create a comprehensive, workable, remarkable design. The understanding of each of the elements and the way they are combined is what differentiates a mediocre design from an excellent design.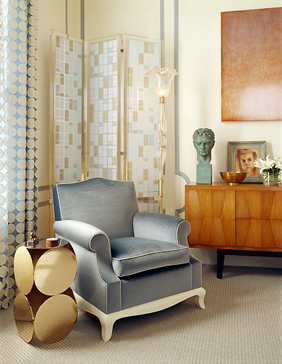 Look first at the shape of the space or individual room. It is critical to consider the use or functionality of the space and then diagram a workable spatial plan. With the right spatial considerations, design makes sense. Form follows function.

Good designers will consider the function and the traffic patterns of a room. From that evaluation, floor plans are used to diagram possible furnishing choices. If beautiful furnishings are put into a room without consideration for the lifestyle of the occupant, the room will never be completely comfortable or functional. For example, if a space is being designed as a reading room, the space should be allocated with a comfortable chair, good lighting, with easy access to bookshelves and away from "traffic".

Look at not only the shapes of the furnishings but also how they fill the rooms. Link this with scale to get an overall feel for the spatial considerations.

Understanding spatial planning will lend great success to your overall interior designs. Even if you are not redecorating your house, you can really enhance your living space by studying spatial planning and learning to rearrange your furnishings to fit your lifestyle.



From soft to hard surfaces, the successful interplay of materials is essential to good design. Material choices are aesthetic, functional, and value-driven. Again, a good designer considers the intention of the room, and that understanding is key to the material choices.

In show houses, designers tend to use more extravagant materials than the choices for their real clients, because this is a showcase and "the client" is fictitious. Similar to clothing designers who show way-out designs on fashion runways, a show house is often a trend setting, edgy display of interior design fashion. But look closely at the material choices. You will still find harmony in an over-the-top room setting. From ceiling to floor, almost every inch of the room is addressed.

For example, look to the ceilings for brilliant treatments that we non-designers often overlook.
Pay close attention to the materials used: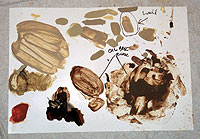 Paint
Designers consider the finish, sheen, color, texture, and pattern. After visiting a show house, you will never look at paint the same way. The creativity with this material is an art form.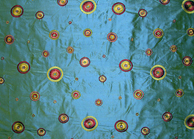 Fabric
From upholstery to window treatments to accessories, fine fabrics are combined and layered. The fabric choices are functional and dramatic at the same time. You will see new trends. Attention to detail is the completing touch designers know so well. For example, notice the piping or lining used. Look at how the light of the room enhances the fabric choices.
Wood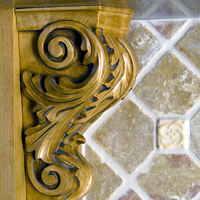 The furniture choices are often the centerpieces of the rooms. Look at the style, structure, and wood used. Quality will be the most noticeable common denominator. A good designer will advocate spending more on "hard" goods because they make a statement and they are more durable. Fruitwoods and other exotic woods are often showcased. They are lovely.

Additionally, look for the use of wood for crown moldings baseboards, doorframes, wainscoting, ceiling ornaments, etc. These rich details give a room a real presence.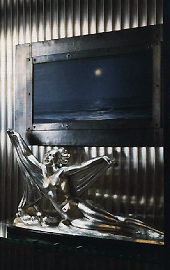 Metal
From furniture to light fixtures to objets d'art, metals have more spatial lightness than wood. Varying types, textures, and finishes provides alternatives to other hard surfaces.
Carpets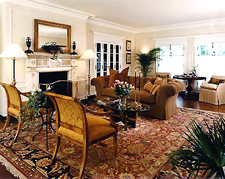 This is where designers really use their knowledge about creating a design solution. By analyzing the architectural context, synthesizing the goals, and evaluating the possibilities, a design starts to unfold. Not only the types of rugs or carpets, but also the placement is interesting to see. A rug can contain a space and designate its use and enhance comfort. Good rugs are pieces of art and are treated as such by good designers.

Again, function is very important when considering flooring.

The pile, pattern and colors can often be seen subtlety in echoes of other materials. Over the last decade carpet companies have been producing thousands of wonderful choices.



Now we'll focus on the structure of the room - the architectural context. This is a great way to apply the lessons of what can and can't be altered, and how structure relates to balance.

In most show houses, structural changes are not allowed. So we get to see how really talented designers live with existing structures and create spectacular results. This is where designers really use their knowledge about creating a design solution. By analyzing the architectural context and synthesizing the goals, and evaluating the possibilities, a design starts to unfold.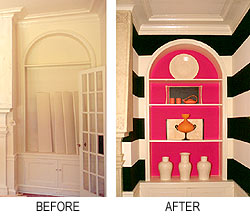 Look at the structure and mentally subtract the furnishings from the room. Look at the shell as the designer might. Look at the room size and shape, window and door placement, and ceiling heights first. Next consider the proposed function of the room. Then see how the masterful designer created the finished product. See what you can tell about the transformation of the rooms in the show house. Very imaginative ideas materialize when a design challenge is approached systematically. Hats off to all those designers who can triumph!

This category is one of the best to observe at a show house. I have witnessed mind-boggling color and color combinations. This is where good design explodes into great design.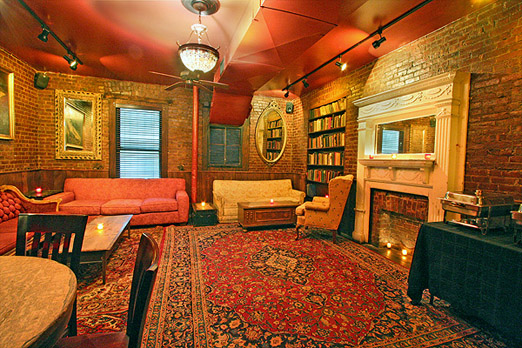 Color can be used to accentuate, camouflage, or thoroughly define a space. Take a long, hard look at the intelligent, creative uses of color.

Here are some questions to consider during a visit:

What are the prominent colors? Is there a prevalent color scheme? Is there an immense use of color, or is it notable for its absence? Is color used as an accent or more broadly, to highlight a particular feature of the space? From room to room are the color palates similar or radically different? Are pale colors used more often than vivid, and how does this affect you? What color schemes are used for what types of rooms?

Look at how light is used to play off and enhance the color schemes. Observe the intensity and saturation of color. Note how it can be used to create excitement and harmony. Is color the dramatic part of the design story?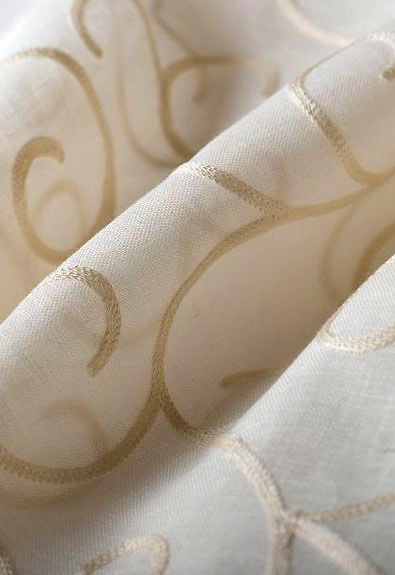 Hard to define yet essential to excellent design, texture is sublime. This is where designers have to really think and methodically evaluate their material choices for a space. By weaving together multiple tactile and aesthetic choices, a room gains dimension and depth. The dense layering used by good designers gives a space that certain completeness. Smooth, sandy, plush, spiny, soft, or sheer textures subtly define the lighting of a room. Contrasting and combining textures can diffuse or reflect light to create the desired character and scale.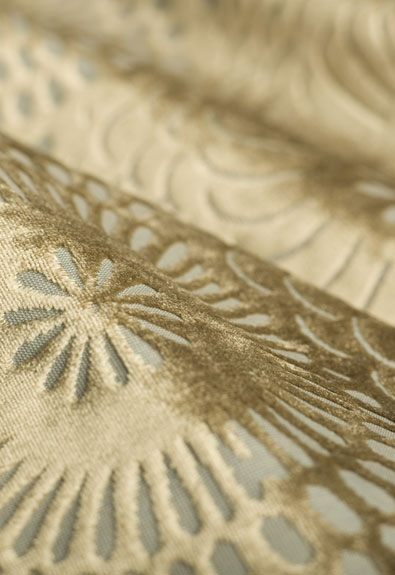 The weights, nap, weave, and pattern of fabrics vary widely. By using, for example, a lightweight, sheer appliqué on a window treatment, more light is emitted, and the character of the room becomes livelier and less serious.

Softer, heavier materials connote one thing and hard, shinny materials another. Observe how the use of texture relates to the overall scheme. There are no steadfast rules about the combinations of texture, but a sense of order usually is necessary for a harmonious result.

Look for the texture choices that really add dimension and depth to the space.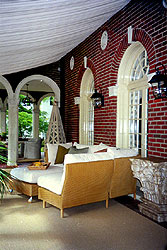 It is very interesting to observe how size affects our experience of a space. Relative size is important for a perceived sense of proportion and balance. Proportion is a classical element of design and a key aesthetic. The artful combinations of large and small, medium and minute are used to draw attention to or away from aspects of a space. The scale of all of the elements must be considered, in relation to each other and the room size. Also, the mass of the various objects in a room affects the sense of proportion. The volume of furnishings is an important aspect of size. For example, the lack of furnishings in a room creates a distinctive minimal character.

The personality of a room changes greatly as objects are added or subtracted. Look for the proportionate use of furnishings relative to the size of the room. Keenly observe how relative size and proportion provide balance and harmony. Think of ways to create a sense of greater or lesser size where needed through the use of elements that accent the feeling of size that you are looking for. A few examples are elements like mirrors, striped walls, smaller or larger fixtures, or furniture that compliments or contrasts the size of the room.

Observe trends of volume and mass throughout the show house. For example, is there still a trend for the minimalist approach? What does the lack in volume of furnishings do to the character of a space? Think also about which amount of size fits your lifestyle.