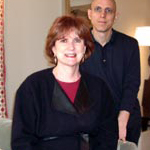 Interview with Gail Prauss
Posted on December 30th, 2008
Designer Highlight

Want to ask a designer real questions and get real answers? We asked renowned interior designer Gail Prauss to share with us her time, ideas and design philosophies. Here's what she had to say.

We interviewed Gail Prauss at the Oak Park River Forest Infant Welfare 36th Annual Designer Show House at the opening event. We wanted to know more about this project and how she also creates the interiors for real clients!

Join us for an intimate look at style…

Q - How did you come up with your concept?
I wanted the Home Cinema Complex to have the romance of the 1920's Art Deco theaters. This was an extremely creative period for artists and craftsmanship.

Q - How did you create the concept for the design of the space?
The first inspiration came from a grill pattern I came across in a book on art deco. A similar pattern was used throughout the theater and which was laser cut steel that was then custom painted by an artist. 1920's movie posters were displayed in the hallway leading to the theater with the backlit grillwork overhead.

Q - What are the critical elements of the design?
Besides the grillwork, the walls and ceiling were airbrushed to bring out wonderful metallic finishes with an aged patina. Cool colors in charcoal platinum for the walls and bronzed gold for the ceiling in the hallway and ticket lobby area, with red brushed from copper at the wall base to a deep red which created flashing as the movie's colors changed on the theater walls. Half columns in the bronze patina are lit with low voltage lighting highlighting them against the red walls.

Q - What are some of the Finishing Touches?
1920's designed medallion abstracting the rays of the sun was applied to the oval dropped ceiling area in the theater. The area was airbrushed in the bronze gold patina. There is a company in Chicago, Decorators Supply, that has cast architectural moldings that were used in most of the Deco theaters of the 1920's . Their castings date back to the Columbian Exposition.

Q - How does your thinking change when designing for a Show House and a real client?
A show house gives me creative license. The decisions are solely mine, not influenced by a clients preferences.

Q - What is your design philosophy?
My design philosophy is a room should be inviting with comfort. I think of the psychological aspect, is it a relaxing bedroom or living room or an exciting family room? I don't like busyness and clutter, as it takes the eye away from important elements like art and beautiful textiles. I view furnishings through an artist's eye.

Q - What are the most important questions you ask your clients before beginning a project?
Color is important. What are there general likes and dislikes? Do they prefer a contemporary or traditional interior? How will a room be used with respect to durability? And of course there is their budget.

Q - What are the significant considerations you evaluate after interviewing a client ?
Is the client honest with their budget? Are they open to new ideas? I always have a reason for why I do something and like to educate my client.

Q - What is the basis of your design philosophy?
I have a degree in fine art as well as interior design and was a docent for the Frank Lloyd Wright Foundation. I blend these three interests into my work.

Q - Where do you go for inspiration?
I love to travel and always find inspiration. My latest trip was to Asia; Viet Nam, Cambodia, and Singapore. I'm overwhelmed by the colors of nature, textures at the market and architecture.

Q - Do you consider a concept or style that fits the architecture of the home?
Some homes speak to me. Certainly Frank Lloyd Wright's architecture needs a special interior so as not to take the eye away from his beautiful art glass and detailing. I love to mix antique pieces with very clean lines.

Q - How do you adapt a creative concept into a workable design?
I first start with the floor plan. I lay out the furnishings. Sometimes I do more than one plan. Next is the furnishings selection wth color and textile ideas. This is presented to the client for their review and additional input. It is important to collaborate with the client,



Q - Is a rendering or sample board essential?
I sometimes do renderings but seldom do sample boards. I present photos of furnishings and large fabric memos and color chips, and architectural materials. the bigger the better.

Q - What are the three most important factors you consider when designing a space?
Scale, color, texture.

Q - How do you get your arms around the scope of a project?
I tend to go from large to small. I most likely would design the living room before the study. I do work with a proposal to the client that lists the scope of work that I will be doing for them. Not sure if this answers the question.

Q - How do you plan a project once the parameters of concept, budget and scope are determined?
After meeting with the client to collaborate with their ideas, I measure the spaces for floor plans and photograph the rooms. These photos give me references to their architecture including window detailing, ceilings and fireplace and cabinetry. And then to the drawing board.

Q - What are some critical elements to your production schedule?
The availability of materials. This can be a problem. Fabrics can be on backorder. I'm waiting for a special bath vessel made in China that is delaying a powder room execution.

Q - What do you enjoy most about the design process?
The creativity. I love working with textiles and interesting furnishings. Fine art and lighting design are also strong interests. Also I get to go into some very interesting homes and meet their owners. I have recently worked with a couple of writers, wonderful clients. What other occupation would allow me to do this?