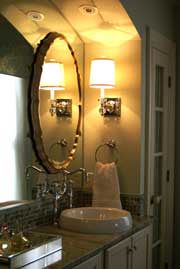 One might have said that Regina Garcia was not going to participate in another show house, and take a break after six, but there is something very challenging and rewarding when participating with the Designer Symphony House.
The Inn's elegant dining room is located in the main house framed by high ceilings and intricate moldings. This room evokes eclectic style and design with the use of vintage lighting and lamps, to modern style furniture and accessories with historic flair.

Designer Regina Garcia achieves this historical elegance with the combination of luxurious finishes, reflective fabrics and antiqued mirrored surfaces. The designer's flair for fine pieces is most evident, however, at the shelter style tufted chairs covered in lush velvet, for after dining lounging.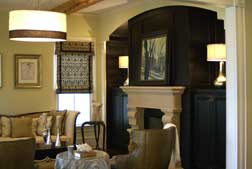 With a comprehensive resource library, attention to detail, Regina Garcia Design creates an environment for the client that transforms the ordinary into extraordinary. Recognized in local, regional, and national publications such as Charleston Magazine, Hilton Head Monthly, Colorado Home and Lifestyles, Better Homes and Gardens Special Interest; Kitchen and Bath Ideas, and New Home, as well as Decorator Show House: Tour 250 Designer Rooms, & Regional Winner 2004/2005, 2007/2008 Subzero-Wolf Design Contest, Great American Kitchens, and Great Kitchen Ideas.
Regina Garcia Design
30 Pinckney Street
Charleston, SC 29401
(843) 937-4377
www.ddetails.com