Jolene W. Smith - Carly Sheen - Ruth Tucker
Afternoon Sitting Room, Piazza in Grande Maison Du Pré
2009 SYMPHONY DESIGNER SHOWHOUSE
at
Maison Du Pré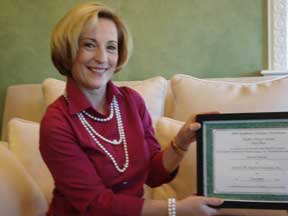 Jolene Smith, owner of Jolene W. Smith Interiors, Inc., has been designing houses for 16 years. Skillfully orchestrating the design procJolene Smith with her 2008 award for Best Roomess from construction to completion, Jolene uses her experience to enable clients to express their individuality through the creation of unique, functional living spaces for themselves and their families. Over the years, Jolene has won numerous awards for her designs but none so treasured as her satisfied clients from all over the world.

Well-known for her fresh, sophisticated and sometimes unusual use of color, Jolene promises not to disappoint the 2009 Symphony Designer Showhouse supporters as the harbor sunset comes to life inside the Afternoon Sitting Room. Winning the "Best Room" award for the Laundry Room in the 2008 Designer Show House presents the challenge to become even more creative this year.
"The purpose of the Designer Showhouse, first and foremost, is to benefit the wonderful Charleston Symphony Orchestra and provide a "taste" of this city's talented designers". I am privileged to have the unique opportunity to create a room that, hopefully, will inspire and delight all those who visit Maison De Pre.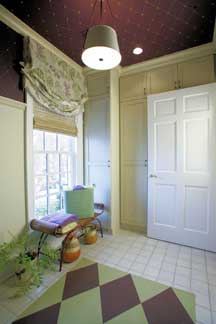 The world of design is overflowing with options. Choose what you love, and love what you choose. Jolene's philosophy: "If you don't love it, we don't use it".
Talented designers, Ruth Campbell and Carly Sheen complete the team at Jolene W. Smith Interiors, Inc. located in Freshfields Village between Kiawah and Seabrook Islands.

Jolene W. Smith Interiors, Inc.
jolene@jolenesmithinteriors.com
130 Gardeners Circle, PMB #152, Kiawah Island, 29455
(843) 278-1958
jolenesmithinteriors.com