Jamie Drake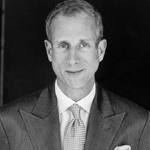 "I love what I do. I love style in every form. There is nothing more exciting than incorporating bold, vibrant colors with a striking mix of genres and periods to create lively, magical spaces that inhabit memories and enrich lives."

Jamie Drake is not one to see the world in black and white. Ever a colorist, he prefers many shades of stylistic expression, the more saturated the better. "Successful interior design reflects the cultural moment--which in this age is a varied statement," says Drake. "Like fashion, it's not all about long or short, pants or skirts. Romanticism, classicism, or modernism. They're all equally valid."

And equally likely to make an appearance in the eclectic output of Drake Design Associates, he is a devilish matchmaker. Drake delights in pairing such seemingly irreconcilable elements as a faux-zebra rug with a stately Louis XVth style chair, a Persian rug with a custom ottoman upholstered in fuchsia velvet, chartreuse with olive and coral. Where some see disparity, Drake sees semblance in line, pattern, spirit, or concept.

He's quick to point out the substance that underlies his dapper style: "What's really important to my work is injecting a sense of personality. I call it personality-plus design." And it manifests itself in projects ranging from the restoration of the century-old premises of the New York Society for Ethical Culture to a 2002 Kips Bay Decorator Show House room swathed in iridescent yellow silk taffeta to Madonna's baroque Mediterranean-style residence in Los Angeles.

His own design personality manifested itself at a rather young age. "I was always put in charge of "decorating and antiques" when we built forts as kids," he says with a laugh. He's come a long way, however, since fitting out wooden packing crates with rusted washbasins and discarded linens. His professional experience began in high school, with an internship at a Connecticut contract firm, Lubin Business Interiors, where he worked part-time during the school year and full-time in the summer. Moving on to New York's Parsons School of Design, he received his BA in environmental design and spent vacations working for Angelo Donghia.
Drake launched his own firm immediately after graduation. "It was circumstance rather than a clear decision," he explains. "I was offered two residential interiors projects." Now you're likely to catch him reproducing gilded plaster medallions for New York's City Hall or selecting period-appropriate upholstery for Gracie Mansion, the city's mayoral residence--both municipal jobs secured through a longtime private client, Michael Bloomberg.

Along the way, Drake has accrued accolades, awards, and enviable commissions. He served as vice president of the American Society of Interior Designers New York chapter in the mid-1990s, receiving the organization's Presidential Citation and Platinum Award. He's a frequent contributor to show houses, including Kips Bay and the Hampton Designer Show House at Villa Maria, and his many charitable involvements are a source of pride and inspiration. He volunteers for Design Industries Foundation Fighting AIDS and the Gay Men's Health Crisis and sits on the board of the Alpha Workshops, which employs HIV-positive artisans to create furniture, wallpaper, and fabric. "Volunteer work is something I'm truly committed to," he says. "I'm lucky that I found organizations that tie so clearly into my work in our industry."

He also participates in Furnish a Future, a Partnership for the Homeless program that provides furniture for families who have only recently secured a roof over their heads. "Given my profession, I understand on all levels how important home is, how much energy people invest in it," he says. "We can't take that for granted."
Jamie Drake invites you to visit him at Drake Design Associates, 315 East 62nd Street, New York, NY 10021 (Tel. 212.754.3099) and http://www.drakedesignassociates.com.