"Inspired Designs: A Show House Celebrating Extraordinary Women" Opens October 22, 2009
Designers Tribute to Extraordinary Women Benefits The Breast Cancer Research Foundation
Evelyn H. Lauder Hosts Opening Reception on October 21, 2009 at 535 West End Avenue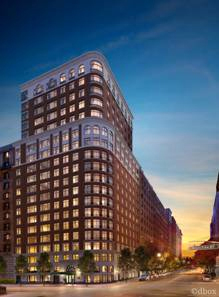 NEW YORK, New York, September 14, 2009 /HWPR/ -- "Inspired Designs: A Show House Celebrating Extraordinary Women" and featuring over 8,000 sq ft of elegantly appointed rooms by many of today's top designers will open to the public on Thursday, October 22nd in Extell Development Company's newly constructed residential condominium at 535 West End Avenue in New York.
"Inspired Designs" will benefit the Breast Cancer Research Foundation founded by Evelyn H. Lauder. Mrs. Lauder will host the opening reception on Thursday, October 21st from 6:00-8:00pm. The showhouse is designed as a tribute to iconic women from the worlds of fashion, style, culture and the arts--women who have inspired the designers with their extraordinary sensibilities and achievements.
Among the designers participating in "Inspired Designs" are Aman & Carson, Bradley Stephens, Cullman & Kravis, David Scott Interiors, Greg Lanza Design, Healing Barsanti, Inson Dubois Wood, Jennifer Flanders, John Barman, Nancy Corzine, Patricia Fisher, Pat Kreisler, Patrik Lonn, Rinfret Interiors, and S. Russell Groves.
Among the many "muses" are iconic women from all worlds-Angelina Jolie, Annie Lennox, Audrey Hepburn, Coco Chanel, Dorothy Draper, Emily Fisher Landau, Eve Ensler, Evelyn Lauder, Grace Kelly, Ingrid Bergman, Marella Agnelli, Margaret Thatcher, Michele Oka Doner, Michelle Obama and Peggy Guggenheim.
This year is also the anniversary of BCRF's first show house held ten years ago this month. That show house was a great success in raising awareness and funds for the organization's core mission—finding a cure for breast cancer through innovative research at leading medical centers worldwide.
The "Inspired Designs" Showhouse will be open daily from 12:30-6:30 from Thursday, October 22, through Friday, December 4. It is closed Mondays and Thanksgiving. Admission to the showhouse is a $25.00 contribution to the Breast Cancer Research Foundation.
(203) 998-8094 office
tera@designintuit.com