Theresa Bishopp, Sarah Melançon and Elizabeth Horn
Designers, Bedroom Suite with bathroom & kitchenette in "Maison Stoney"
2009 SYMPHONY DESIGNER SHOWHOUSE
at
Maison Du Pré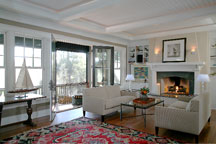 Given the history of the
1800's carriage house,
the Herlong design team will be creating a space that is tranquil and organic, yet retains the feeling of magic long inspired by this dwelling. This
second-floor family space includes a kitchenette and private bath off the diminutive bedroom
.
To enhance the traffic flow and livability of the space, the designers removed the ill-placed closet, thus able to incorporate a charming eating area for up to four people using antique pieces that are both exquisite and comfortable. With only a single, small window in the main space, natural light is at a minimum. To counteract this, the design team will take a
sensory approach
, relying on an abundant use of color and texture.
The
palette
is dictated by a typically spectacular Lowcountry sunset, infusing
shades of purple and orange along with earth tones and soft greens
to represent the sand and tidal marshes. By incorporating a dramatic amount of fabric, mostly silks, the team is able to achieve an unexpected "softness" to the space that more than compensates for the lack of natural light. The old Charleston brick fireplace is flanked by an antique clock and small writing desk, inviting guests to relax and ponder.
The rooms' only
modern nods
are the shrimp-colored leather reading chair and the well-appointed kitchenette, places where a semblance of
luxury is a must
. While the transformation of these rooms is dramatic, the resulting aura is one of refinement and utter comfort.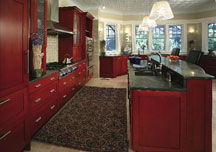 Theresa Bishopp, Sarah Melançon and Elizabeth Horn have been creating inspiring interiors for the past 22 combined years. Aspart of Herlong & Associates, Architects & Interiors, this team appreciates the collaborative power of architecture with interior design. Their work has been featured in Coastal Living, Renovation Style, Beautiful Homes and Charleston Magazine
Herlong & Associates, 103 Palm Blvd., Suite 3-A, Isle of Palms, SC, (843) 886-9199 www.herlongarchitects.com